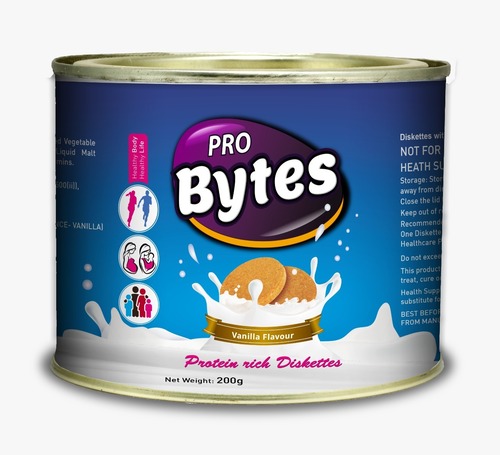 Product Description
Biscuits are loved by almost everyone all around the world. We manufacture Probytes Vanilla Flavour Biscuits for our customers. These biscuits are made using best quality components and are 100% pure and healthy. If you are searching for healthy and tasty biscuits, you must try our probytes vanilla flavour biscuits. We have used best technology for hygienically packing these biscuits and storing them under healthy conditions. In addition to this, we have packed them in best quality cans which protects these biscuits from outer environment.
PROBYTES (High Protein & low fat biscuits) --All you need to know.
Probytes Diskettes also known as Probytes Biscuits, is a high protein and low fat and low sugar biscuits, with low glycemic index and fortified with essential vitamins and minerals.
Probytes makes snacking healthier and tastier than ever before----surprisingly just 3 Probytes biscuits provides almost the same amount of protein equal to one Egg. Those who do not prefer to take Egg or any non veg foods or take dairy products adequately, Probytes helps to fulfil their protein needs deliciously, and interestingly probytes also provides vital vitamins and minerals with low fat and zero cholesterol.
Today, most of the protein powders are made with animal protein and we have depend on the availability of milk to mix the powder to gulp the horrible tasted drink, second the iron given in these powder interact with the calcium in the milk, which reduces the absorption of both the Iron and Calcium, makes both the vital minerals non available or less absorbed.
Many protein powder also come with a lot of fat and sugar, makes us Obese and end up making us gain more weight by promoting fat build up in our body, second these powder also come with a lot of sugar to make them tasty make our blood sugar shoot to the roof like taking a cola drink.
Let us understand a bit more.any protein powder which provides more than 25% calories (energy) from protein is considered as the best. Interestingly Probytes provides 28% of calories from Protein makes Probytes as the best and healthy alternative to any snack.
Probytes can be given to all school going children as a part of their healthy and tasty breakfast, or as apart of their healthy snacking during the intervels, just 3 Probytes biscuits each in the morning & evening interval helps them to get nearly 10g of Protein which is almost equal to 2 eggs. Apart from protein children also benefited with Vital Vitamins like B-complex and Minerals like Iron, makes children more active, energetic and attentive. Probytes can be a part of healthy snacking for young adults, as the probytes diskette is very small in size, fits in their boxes, bags easily and can be carried any time any where. Probytes helps these teenager's more active and attentive and become more strong as well as helps them to fight with the pollutants, bacteria, virus very effectively. Probytes fits into ones diet plan without contributing more calories, fat or cholesterol, there by figure (outlook) conscious teenage boys/girls can relay on Probytes as a part of their healthy snacking.
Probytes can be a very useful alternative to protein powders during pregnancy & lactation, as these protein powder's comes with more fat and sugar, makes the pregnant women more obese. As unnecessary weight gain during pregnancy not only makes their delivery difficult but also makes their life miserable post delivery as it is very difficult to reduce the unnecessary weight.. gained during pregnancy.
Probytes also is a very useful and be part of a healthy diet plan of a lactating women. As lactating women needs almost 40% more protein than a normal women, ie daily they should consume 72-75g of protein every day, getting this much protein especially in vegetarians, lacto-vegetarians is very difficult.
Probytes also can be an integral part of Young Adults healthy diet as probytes provides vital nutrients like High Protein, Iron, Low sugar, Low fat, Zero cholesterol, Zero transfat. As probytes provides less calories it also can be a part of diet, calorie conscious young adults.
FAQ:
Q: What is the Quality of protein used in Probytes?
A: Probytes provides protein from a best quality protein source, which provides all essential amino acids. It Protein Digestibility Corrected Amino Acid Score is 1, which makes it an ideal protein for all ages.
Q: What is the amount of fat in Probytes?
A: Probytes is also a low fat diskette, as it provides only 0.75g of protein per diskette, which makes it a good choice for all age groups.
Q: Probytes can be given during medical conditions?
A: Probytes can be given in Lactose intolerance, sucrose intolerance, during recuperation, Post hospital discharge, Elderly persons, Cancer patients, T.B patients, during illness. (Pls consult your Dr. in case of any kidney related elements, or chronic diabetes where more protein is not recommended)
Q: Does Probytes contains any Cholesterol or Transfat?
A: Probytes is totally Cholesterol and Transfat free protein diskettes.
Q: Does Probytes can be a part of every day snacking?
A: Yes. Probytes can be a very good option for snacking, as Probytes provides more protein, less fat and no sucrose.
Q: How many Probytes diskettes can be taken per day?
A: Children above 1 year can take 1-2 diskettes per day, others can take 5 diskettes per day and those on diet looking forward for high protein, low fat, low calories can take 8-10 diskettes per day.
Q: Is Probyes safe in pregnancy and Lactating women?
A: Yes 100%.....Probytes is safe and essential in pregnancy and lactation as they need 40 50% more protein than a normal women.
Contact Us
Flat No- 418, Anil Castle, Gollapudi, Vijayawada, Andhra Pradesh, 521225, India
Phone :+918068094825